technical surveillance
Ears - Who's listening? Otherwise known as EAVESDROPPING, Technical surveillance is using technology to eavesdrop, in order to gather information not allowed to you. The manufacture, sale, installation, and monitoring of audio and video surveillance devices is a multi billion industry within the United States.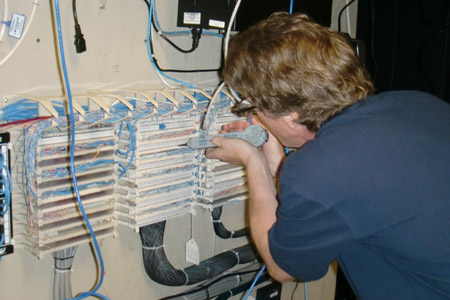 The FBI claims to be aware of attempted theft of trade secrets and other intellectual property in 23 countries, and it claims that US companies combined are losing about $2 billion a month to corporate espionage resulting from phone tapping and other forms of illegal eavesdropping. Only you know if you have reason to believe whether someone is listening or watching, and if you think they are, then they probably are.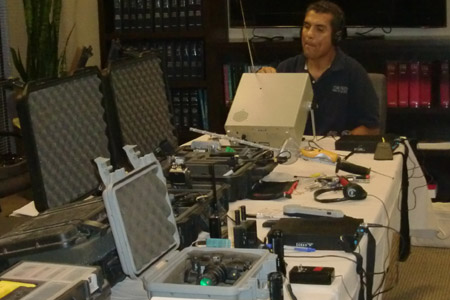 In Nevada as in most states, you need to be a licensed Private Investigator to conduct theses counter eavesdropping sweeps. We are licensed to do so, which allows us to do compete consulting work while protecting your interests. We operate the latest Research Electronics International (R.E.I.) counter-eavesdropping equipment and can ensure complete confidentiality.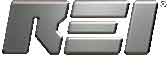 The Core Group specializes in locating and neutralizing surreptitious devices and nefarious personnel. It's a simple matter for an antagonistic employee or enemy, to buy an effective transmitter or 'bugging' device. Cheap, yet effective, audio and video devices are easily planted in boardrooms, computers, executive offices, vehicles and homes.
Personal and Corporate espionage is a rapidly growing phenomenon in our highly competitive and complex global economy. Are you sure that your company's classified information is being protected?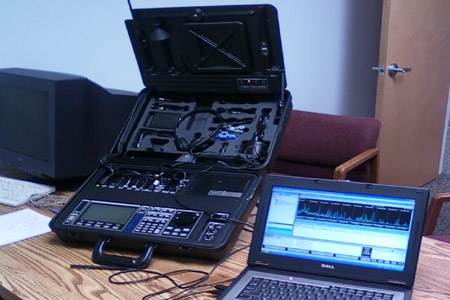 Have you ever discussed vital contract information or the latest product development, only to find out later that this confidential information was suddenly public knowledge?
1-702-900-CORE (2673) Contact Us
Member Nevada Society of Professional Investigators.
The Core Group can help you minimize your losses and improve your companies bottom line by reviewing it's internal security and ensuring your employees understand Technical Surveillance Countermeasures, (T.S.C.M.).
counter - eavesdropping
Eyes - Who's watching? Businesses are commonly targeted for illegal electronic surveillances by competing corporations and foreign governments, and high profile personalities and celebrities too, due to their tabloid and extortion value. How important is you're information?
One of the most valuable commodities an organization has is it's proprietary information. Yet, many companies and organizations do very little to protect this investment. Our "Bug Sweep" team can ensure your exhibit space, meeting rooms, or hotel suite is clean and safe of hidden microphones, video cameras and tape recorders. We are trained and licensed to provide these services.
SAFE ROOM SERVICE
PROTECTING IMPORTANT MEETINGS FROM COMMERCIAL ESPIONAGE
1) NO meeting is safe from commercial espionage unless the radio frequencies spectrum (RFS) around the meeting room or rooms are monitored during meetings.
2) Most sweep services only sweep meeting rooms for eavesdropping devices prior to a meeting or meetings.
a) Eavesdropping devices can be deployed after a sweep; before and during meetings.

b) Eavesdropping devices can be switched on and off remotely during a meeting.
3) The only way to protect important meetings is by using Real-Time-Live R.F. Spectrum Analysis just prior too and during your conference meetings.
We provide a Safe Room Service, where we come in just prior to your meeting, set up our equipment, both Spectrum Analyzers and Acoustic Noise Generators, to ensure no information is leaked or broadcasted.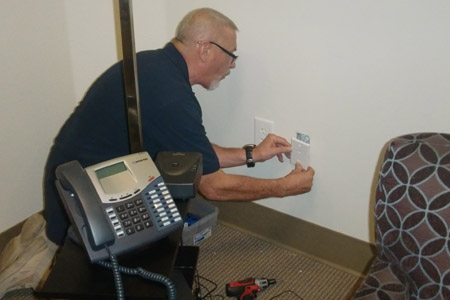 As an Air Force Electronic Warfare Officer, Mr. Jones has been military trained and is a specialist in the detection and location of eavesdropping devices, otherwise known as Technical Surveillance Countermeasures, or T.S.C.M. He has also been trained by the leading TSCM company in the world - Research Electronics International.
We've completed hundreds of sweeps and briefed thousands of personnel and can come to your place of business, perform a vulnerability analysis, and professionally brief your employees, educating your staff about what to look for and how to respond.

Information theft is a booming business and cannot only destabilize your business, but your personal life as well. Knowledge is not only power, it's information.
1-702-900-CORE (2673) Contact Us
bug sweeps
Electronic Eavesdropping Detection.
Making the deal is the beginning, keeping the deal is the hard part. One of the most valuable commodities any person or organization has is it's proprietary information.
The Core Group is trained by R.E.I., to the same specifications and employs the same techniques used by government. We use state of the art equipment, the OSCOR by REI, a spectrum analyzer, as well as much much more.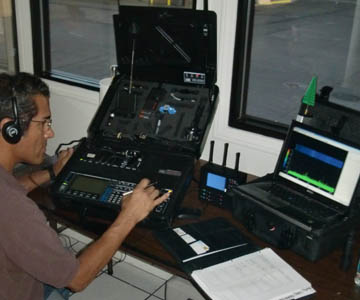 The cost of training and equipment are significant, approximately $80 - $100,000. (see the photos below) Our FEES are competitive and reasonable. Call our offices for a comprehensive quote.
Whether it's a corporate deal or a divorce; with today's technology, audio, video and computer "bugging" is getting easier and easier to do. It's also getting harder and more costly to detect.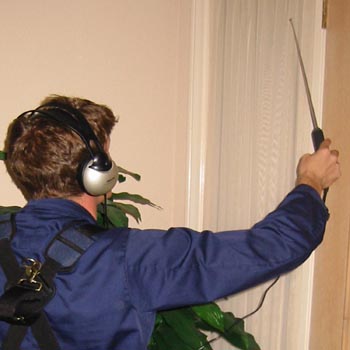 Vulnerability Analysis (Low Threat): Basic / Main area; a home, business office or small corporate office, this low threat analysis is done in 4-6 hours. This type of sweep is most likely used in domestic situations such as divorces, relationship disputes and partnership disagreements. The hard line telephones are checked, a physical search is done and a radio frequency analysis is done for hidden deices.
Contact Analysis (Medium Threat): Extensive / This medium threat analysis is done in 6-10 hours. This type of TSCM service involves an external inspection of the airwaves, power lines, and telephone lines for obvious RF signals, and an internal inspection and physical inspection for the same.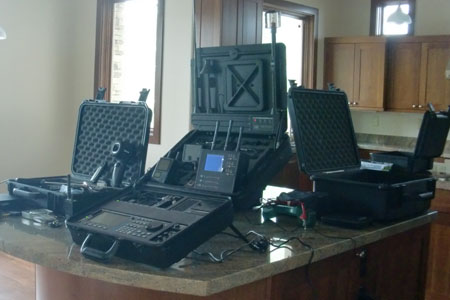 Corporate Analysis (High Threat): Complete and can require 12-18 hours (on-site) for completion. This type of TSCM service involves an 3-point external inspection of the airwaves, power lines, and telephone lines for RF signals, and a detailed internal inspection for the same, including telephone lines, R.F. Spectrum Analysis, PBX terminals, telephone instruments, scanners, copiers and computers.
Motor Vehicles: A standard "Motor Vehicle" will require 2-4 hours.
We also offer a program of ongoing TSCM inspections at a reduced daily rate with a retainer. One annual fee and after an initial inspection to develop a standard, we randomly inspect your offices and workspaces several times a year. Typically these inspections will be done on a quarterly basis.